In August of this year, I did my first Ironman distance race, completing the 146.2-mile course in beautiful Guernesville, CA for the Vineman Full distance triathlon. Soreness and fear of stairs ensued for a week or two post-race, but that was more than offset by the great feeling of accomplishing a big, challenging goal. I've been meaning to sit down and do a race + training debrief and summary, and I'm finally getting to it – so here's a summary of my experience training for and competing in a full Ironman.
The 4-month Ironman training program
I started training a bit late, approximately 4 months prior to the race. I have done triathlons before, including a half-Ironman at Big Kahuna in Santa Cruz, but doing a full distance was something of an unknown for me. My swimming was already good, I'd been swimming good distances regularly (usual routine is between 1,500 and 2,000 meters 3 to 4 times per week), but I hadn't done much running or riding.
Typically riding is my strength and running is my weakest segment, with swimming in between. However, at this point both my running and riding were at a pretty bad state since I had barely done any of each over the winter. It was now mid-April, with the race at the end of August – so I had my work but out for me. I decided to train on a condensed schedule to rapidly improve my cycling and running, while doing enough swimming to retain my technique and fitness.
Swim training
Last year I changed my swim stroke to utilize what's called Total Immersion – despite the gimmicky-sounding name, its a great technique for beginner swimmers to learn a more efficient freestyle swim stroke. I've never had much formal training for swimming, so my freestyle stroke was pretty, well, bad. TI (for short) is simply a technique for teaching the freestyle stroke which helps a novice swimmer focus on the right mechanics to achieve a more efficient stroke. I highly recommend it for any triathlete who is not already an accomplished swimmer – it really makes swimming easier, faster, and more fun. I did lessons with Shinji Takeuichi, who I recommend highly as a top TI coach.
My swim training schedule was just one swim per week, starting at 2,000 meters per workout, working up to 2,500 meter workouts in the pool and between 1 to 2 mile open water swims. Pool workouts consist either of 400 meter repeats or a 200-300-400-500-400-300-200 pyramid workout with some warmups / kicks mixed in.
Ride training
Riding is my strongest event, however this year I was starting from a point of low fitness, as I had not ridden much at all over the winter. In my training the previous summer I had done a fair amount of riding, but I sprained my ankle late in the training season which put me out of commission for a couple months.
For Vineman 2011, I decided to (finally) upgrade my bike from my old road bike to a full tri bike. I went to a few shops, and found that Pacific Bikes here in SF SOMA had the best selection of tri bikes. The guys there are really helpful, and so long as you go in when its not too busy you can get a lot of custom attention for test rides and custom fitting. I rode a few Cervelos, Scotts and Orbeas, and settled on a 2010 Orbea Ordu GLT that they had on sale. It just felt comfortable – amazing how one bike can suddenly feel "right" when you get on it compared to many others. I managed to haggle in a pair of Reynolds Assault carbon rims at 30% off marked price in exchange for the stock rims – so the bike looked (and rode) pretty sweet coming out of the shop.
Ride training over the summer averaged at 2 rides per week – one long weekend ride and one shorter weekday ride. I rode a lot with my buddies Chung and John, both of whom also did Vineman, and overall had a great season training up in Marin as well as down in the Canada Road / Woodside area. Average mileage started at approximately 50 miles per week at season start, and worked its way up to 80 to 110 miles per week at the end of the season. I didn't manage to squeeze in any century rides – I caught a nasty flu mid-season which threw my schedule off – but I made it up with a peak ride consisting of a 2x repeat of the La Honda => Tunitas Creek => King's Mountain loop, a gnarly 39 mile loop repeated to get to 78 miles and approximately 7,800 feet of climbing. They should give that double loop a name, because it definitely left an impression on me (not to mention a notable limp the next day).
Run training
Running is my weakest event. Honestly, I hate running, but unfortunately, you can't do a triathlon without doing it. The thought of running a marathon on its own made me a little sick, let alone doing it after 2.4 miles of swimming and 112 miles of biking. My run training was 1 or 2 runs per week – I tried to do one long run on the weekend (starting at about 8 miles, working up to 17 miles), along with one shorter run or a track workout during the week (didn't always get to this). Most of my running was done on the Chrissy Field to Baker Beach to Land's End route, which is mostly trail running. Hated most of this, but got through it, and my running improved significantly over the summer – by summer's end, a 10 mile run didn't seem very long, so long as I had 2 hours or so to run it 😉
Race day @ Vineman
Getting mentally ready for my first Ironman distance was quite different from other races I've experienced. There's something about knowing you'll be going for 14 hours or so, and pushing your limits past where you've ever been before that makes you a little nervous. Luckily, my wife Liz and baby accompanied me to the race – it felt great to have them there with me, and really helped me relax and focus. We checked in early the previous day up in beautiful Sonoma – had a good pasta dinner in downtown San Rafael, came back to the hotel and got all my equipment ready, then hit the sack early.
Vineman swim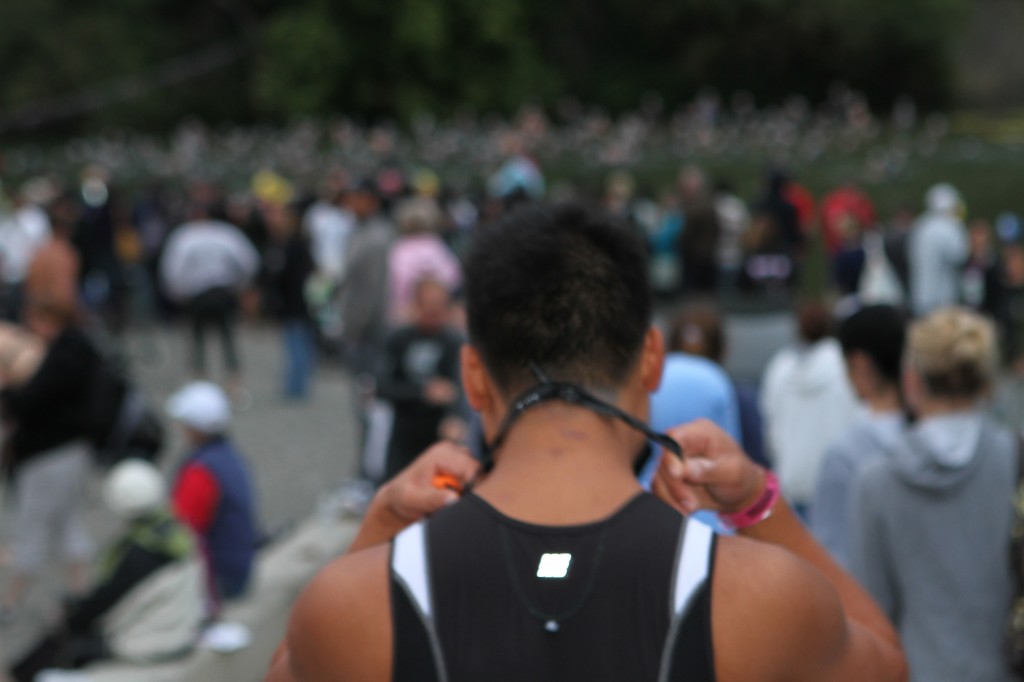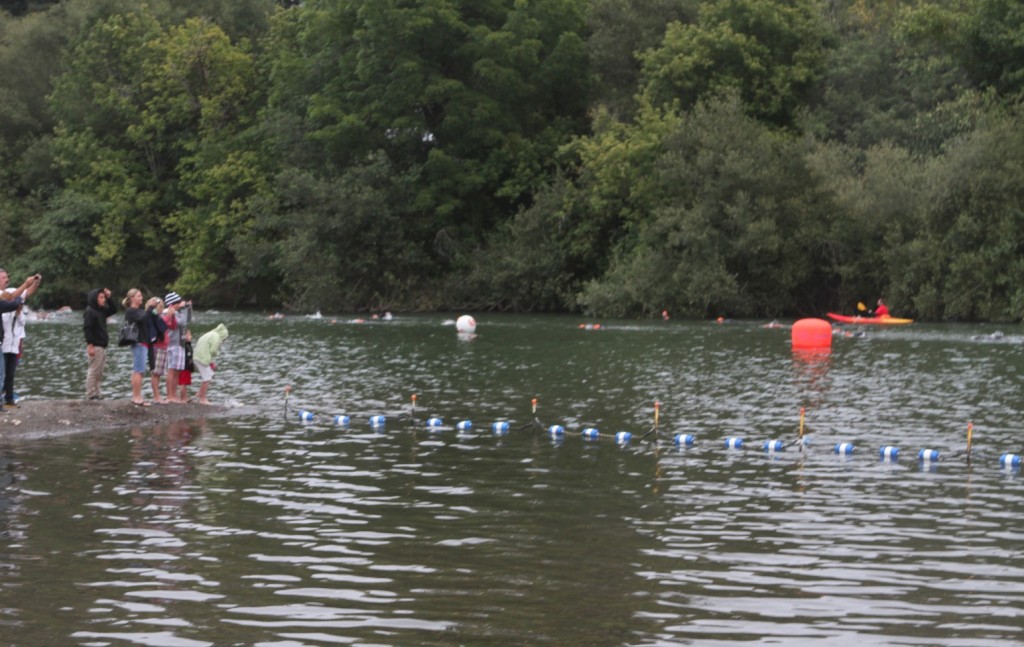 We arrived pretty early for the swim, which for me started at 6:40am – we got there around 5:45, but after parking and getting past the crowds and into my wetsuit, I had just a minute to spare for the swim start. The Vineman swim is in the American River – and is a relatively pleasant swim. Water temperature was around 70 degrees, and the river has little current. In some places the river is so shallow your hands scrape the bottom on each stroke, which is a little annoying. The swim was a solid leg for me, I was relaxed and swam a 1 hour 20 minute time for 2.4 miles – not fast but a good time and I felt good going into transition.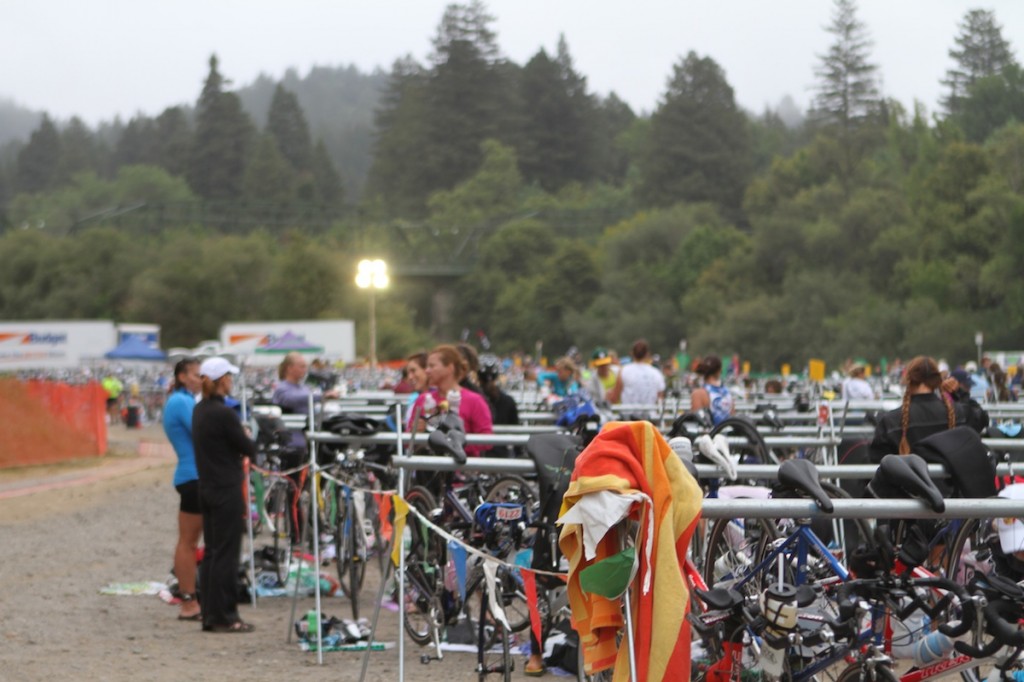 Vineman ride
The ride was a great leg for me – I felt a big difference riding the tri bike, and was able to stay relaxed for most of the ride. I rode a 6 hour and 11 minute 112 mile distance, averaging 18 mph. My goal was to beat 7 hours for the ride, and I think I expended a bit more on the ride than was ideal, but it was hard to calibrate the right speed. The Vineman bike course is fairly easy with few major hills and lots of easy rollers. The weather was kind to us and stayed cool for most of the day – things didn't get hot until the early afternoon. Riding the tri bike made it much easier and more comfortable to stay in the aero position for long periods, and while it was pretty painful after mile 80 or so, it was markedly easier to stay at speed throughout the ride.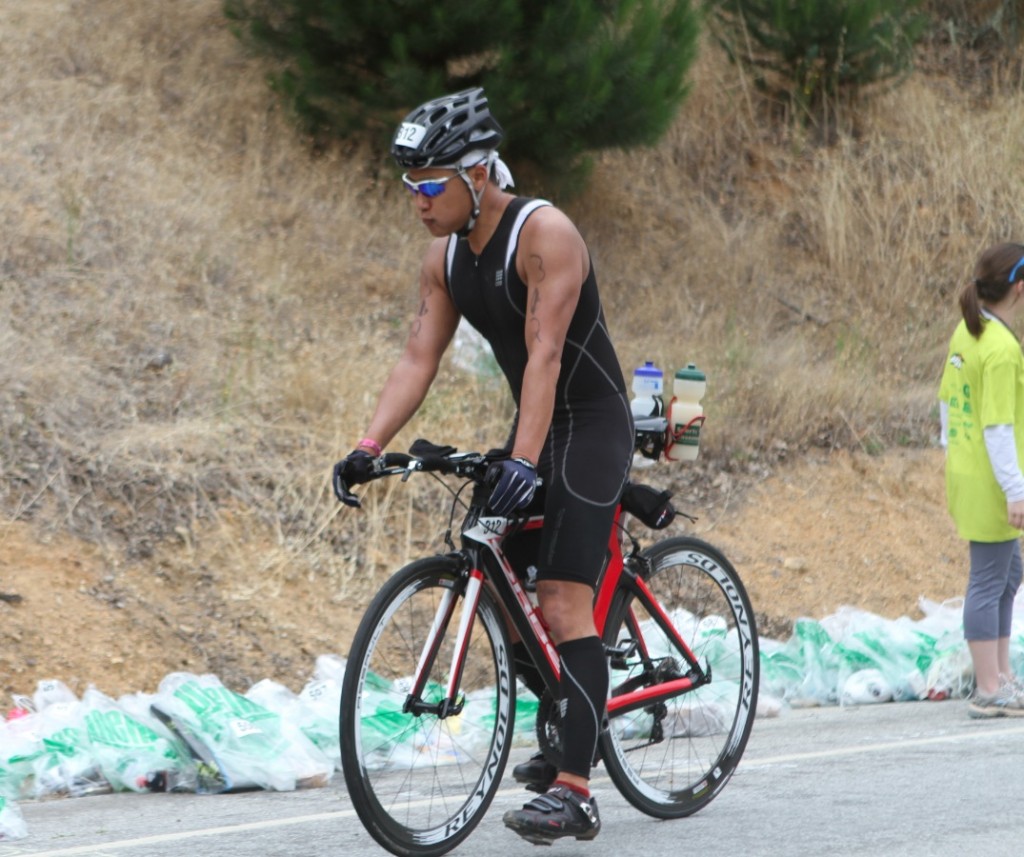 Nutritionally, I kept a lot going down, during the 112 mile ride I ate the equivalent of 2 bananas and 4 bars, and finished 6 large bottles of fluids (I was doing Hammer Perpetuem, which I was very happy with, made a noticeable difference in maintaining a high effort level over other drinks I've tried such as Gu2O, Accelerade and Cytomax.) My ride fitness was good and my legs felt good throughout the ride, my weak point were my gluts which were really tired at the end of the ride.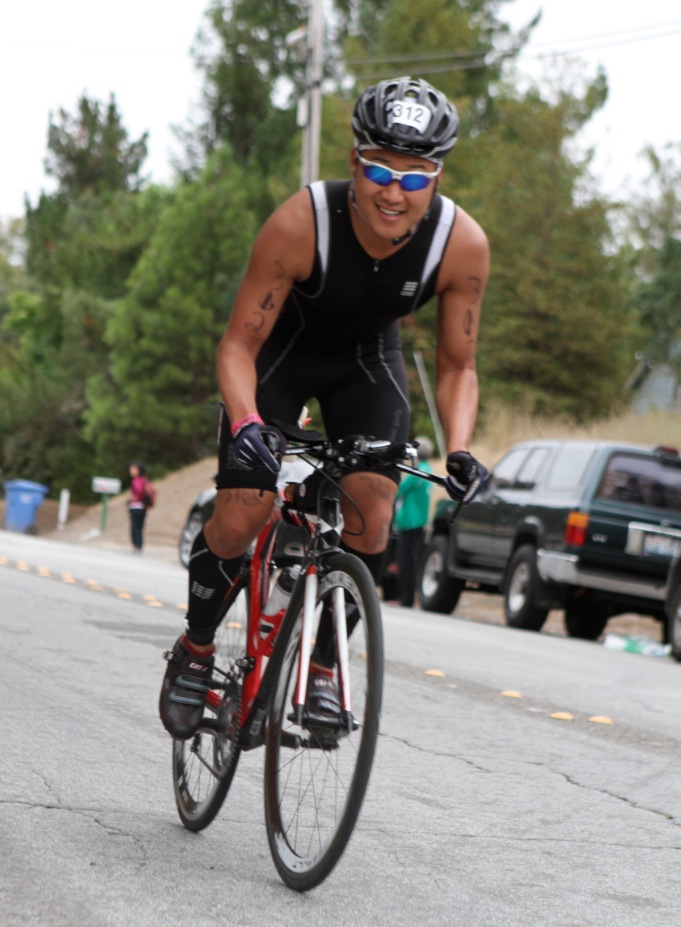 Vineman run
Hopping off the bike, I felt good to start the run. So good, in fact, that I forgot everything I was supposed to do in transition. I had a IT band strap that I had planned to put on to help with a sore knee during my run, plus I had planned to transition my sodium pills from my saddle pack to my run pocket. Both of these steps went out the door as I just laced up my shoes, donned my visor, and took off running. It wasn't until I was about 200 meters into the run that I realized I had forgotten everything – the salt especially was a biggie, I knew I was already feeling some cramping and my muscles were not firing as efficiently as they should even at the start of the run. It was going to be (an even longer) run.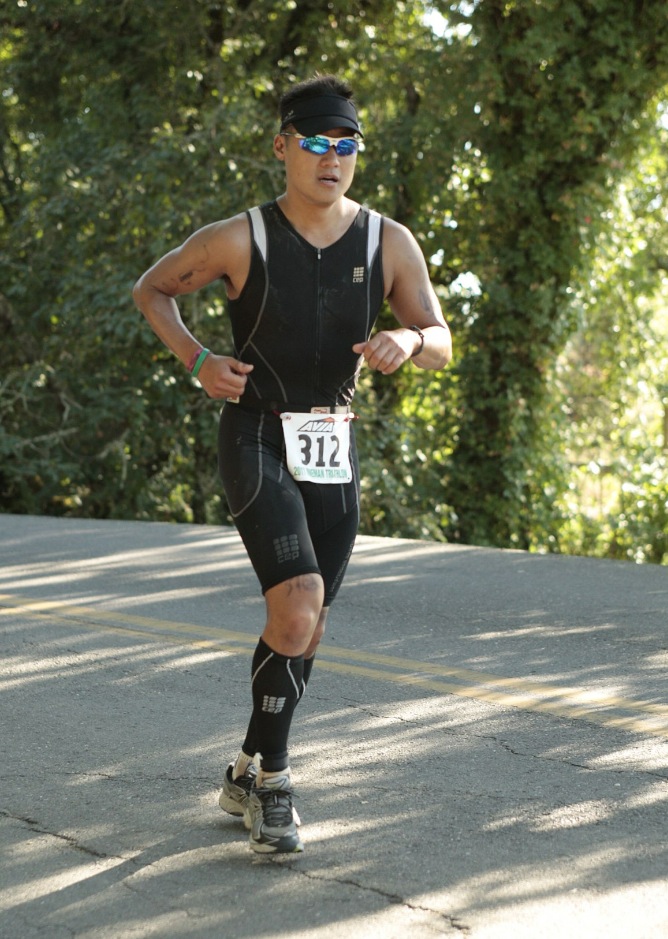 The Vineman run course is, well, cruel. Its 3 laps of an approximately 9 mile out-and-back course. There are two major hills on the course, meaning you climb 6 hills during this marathon. The weather was in the low 80s, not super hot, but hot enough to notice. The first lap was extremely difficult, partly because I had just gotten done with a 112 mile ride at high effort, and partly because mentally I knew I was just on the first of three of these bad boys.
For an Ironman distance, it really does come down to the run. This is where it all comes down, everything that is going to break down breaks down here, and all the pain happens somewhere during these 26.2 miles. For me, the lack of salt was the biggest pain point – I tried to put down a lot of pretzels, which was the saltiest food they provided at each refueling stop, along with lots of Gatorade – but at this point in a workout you really need a lot of salt. I felt it mostly in the lack of ability to get my legs to "wake up" and get active. The other major issue was blistering – during the swim segment, I had walked on the river bed a bit in some shallow sections and at the end of the swim – and that caused some minor blisters to start out on the bottoms of my toes. By the 10th mile or so into the run, 4 of my toes had opened up pretty badly, and it was pretty tough to run on them. I tried to keep my mind off them, and varied my gait to keep the pressure on one side of my feet or the other.
At the end, I ran a pretty dismal 6 hour and 11 minute marathon, which is a 14 minute mile average. I walked a lot on the course, and was never able to run at a good pace – so this time is about what I expected.
Ironman complete!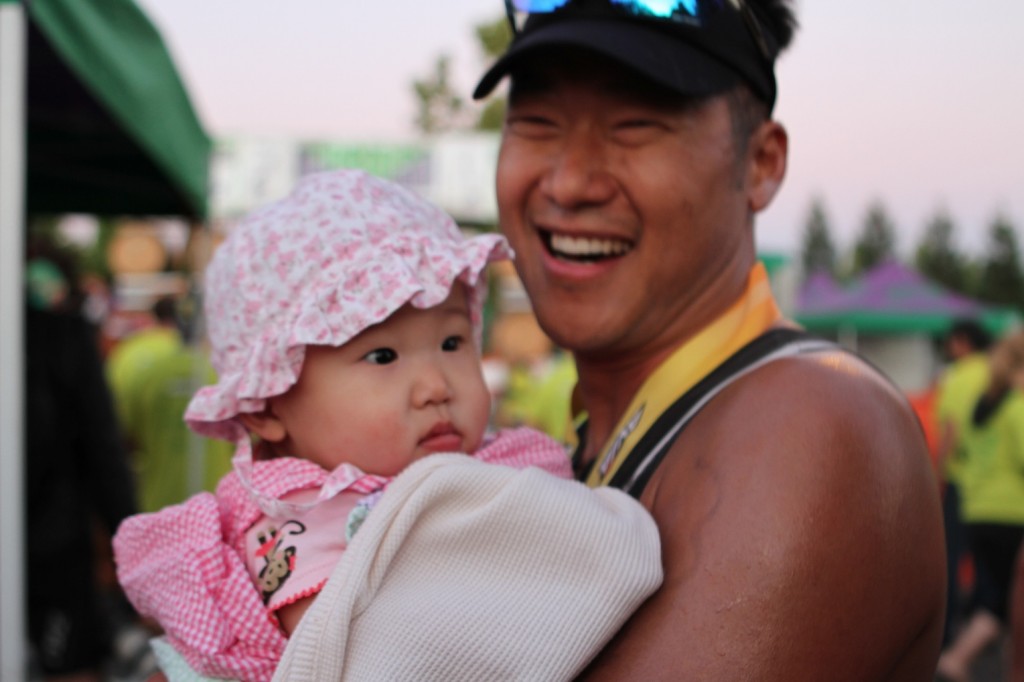 Overall, I completed my first Ironman distance race in 13 hours and 57 minutes – better than my goal of 14 hours, but definitely with lots of room to improve. Given the time commitment required to do this distance race, I'm not sure when my next one will be – but I'm definitely in a much better position now to prepare and compete more efficiently the next time around.