Just came across one of those tools that you wish existed ten years ago. Unroll.me gives you a quick birds-eye view of each provider which sends you newsletters and email alerts, and lets you one-click unsubscribe to them from one page.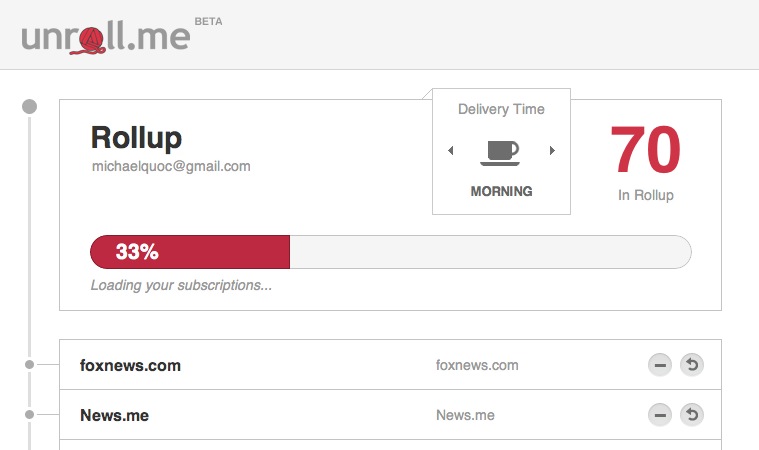 I just went through my subscriptions and unsubscribed to around 30 providers in just a few minutes. Much easier than the once-quarterly clean up we do in which we manually hunt for the little "unsubscribe" link on all those emails in our inbox. Unroll.me only supports Gmail currently – they are working on Yahoo Mail and AOL Mail and others.
UPDATE: After using Unroll.me for a few weeks now, I decided to delete my account. The way the service works is a bit intrusive and hard to understand. My first complaint is that Unroll.me sends you a daily email summarizing the emails they caught for you. The net result is that you still get an annoying daily email update in your inbox, and you have to click theirs to open it to see the headlines, and THEN you need to click over to their site to actually see the body of the email. This adds steps and clicks to what used to be a simple scan of your inbox. They do not offer a way to unsubscribe from THEIR email update. Furthermore, the service seems to add new emails to their "catch" list each day, for example, they recently added my Amazon purchase confirmations to their list, so my Amazon receipts were no longer available in my inbox, I had to go find them in Unroll.me. This is not the "help" I'm looking for.