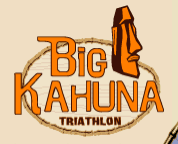 So yesterday I completed my first endurance event (which didn't involve beer or Nintendo Wii) at the Big Kahuna Half-Ironman Triathlon. The race consisted of swimming for 1.2 miles, getting on your bike and riding 56 miles, then getting off your bike and running a half marathon (13.1 miles). It's not usually how I'd envision spending a Sunday morning, to say the least.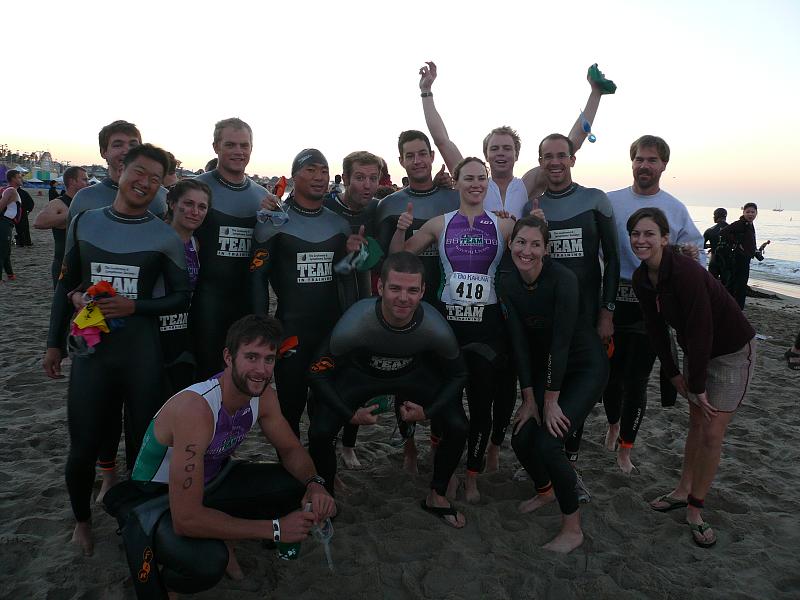 First off, I have to give a big shout out to Team in Training – I joined the SF / Marin chapter of this great organization that provides triathlon training, education, and support, while raising money for leukemia and lymphoma research. I've discovered that Team in Training has raised in the neighborhood of $800 million for cancer research since its founding in 1998. After spending the summer training with the people who are involved, I can certainly see why this organization has been so successful – it's an amazing group of people – some of the most supportive, team-spirited, and big-hearted I've met! I also need to thank Chung-man for getting me into the whole triathlon thing in the first place and introducing me to Team in Training.
What's up with the bright Red Mango suit?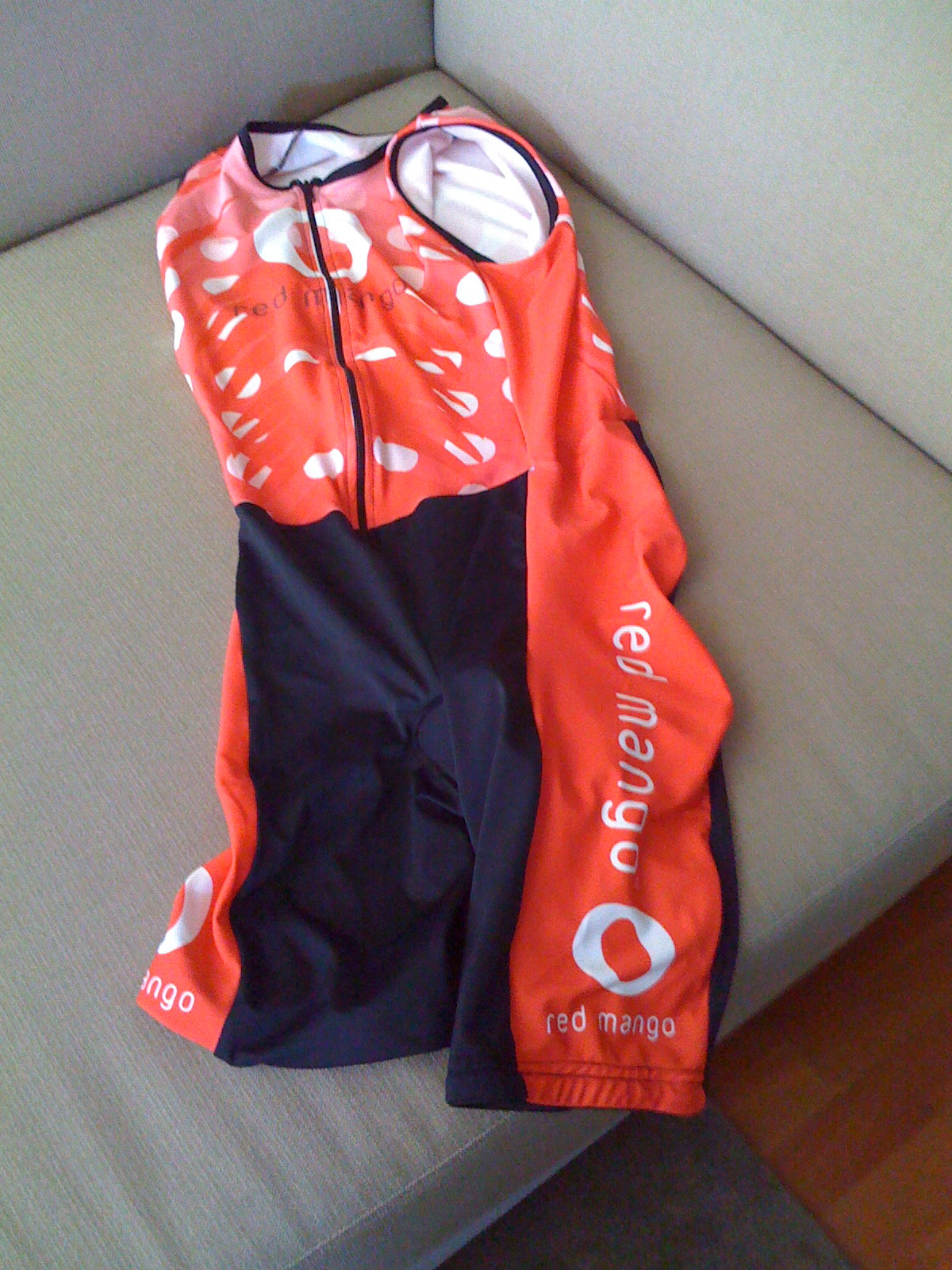 Red Mango is a new chain of yogurt shops opening up all around the country. If you've tried Pink Berry, you gotta try Red Mango – it's the original healthy organic frozen yogurt which has been very successful in Korea and is expanding here in the States. Yul Kwon, who many of you know as the winner of Survivor: Cook Islands, is a close friend of mine, and along with partners Mark Young and Richard Choo, are partnering with Red Mango to open up their Northern California stores. Yul generously offered to sponsor me for my triathlon in Red Mango's name, so Red Mango will be a corporate sponsor of Team in Training in Spring 2009 in support of blood cancer research.
So on to the race – here are the highlights:
Day before the race
Willow Harrington, my Team in Training mentor, completely saved my ass the night before the race. At the hotel, I discovered that my custom Red Mango tri-suit did not come manufactured with pockets – a critical oversight given I had planned to carry 6 hours worth of energy gel in them. Willow, who has a magical ability to come through in the clutch, happened to have an extra Bento Box (bike carrying case) which was exactly what I needed to not die during the race. Thanks Willow!
At the starting line, before the swim
My parents somehow managed to find me at the starting line amidst the crowd of wet-suit clad competitors. We got a few photos and Mom gave a pep talk and offered some advice about "breathing deeply" and "staying relaxed" to all the nearby triathletes. It was quite embarrassing, but you gotta love moms! Then we then proceed to line up, the gun went off, and we jump into Pacific for a swim around the pier at the Boardwalk.

The swim
Uneventful. I'm not a fast swimmer, so I was getting passed left and right. But I felt relaxed, and was mostly concentrating on trying not to get kicked in the face too much.
Transition to the bike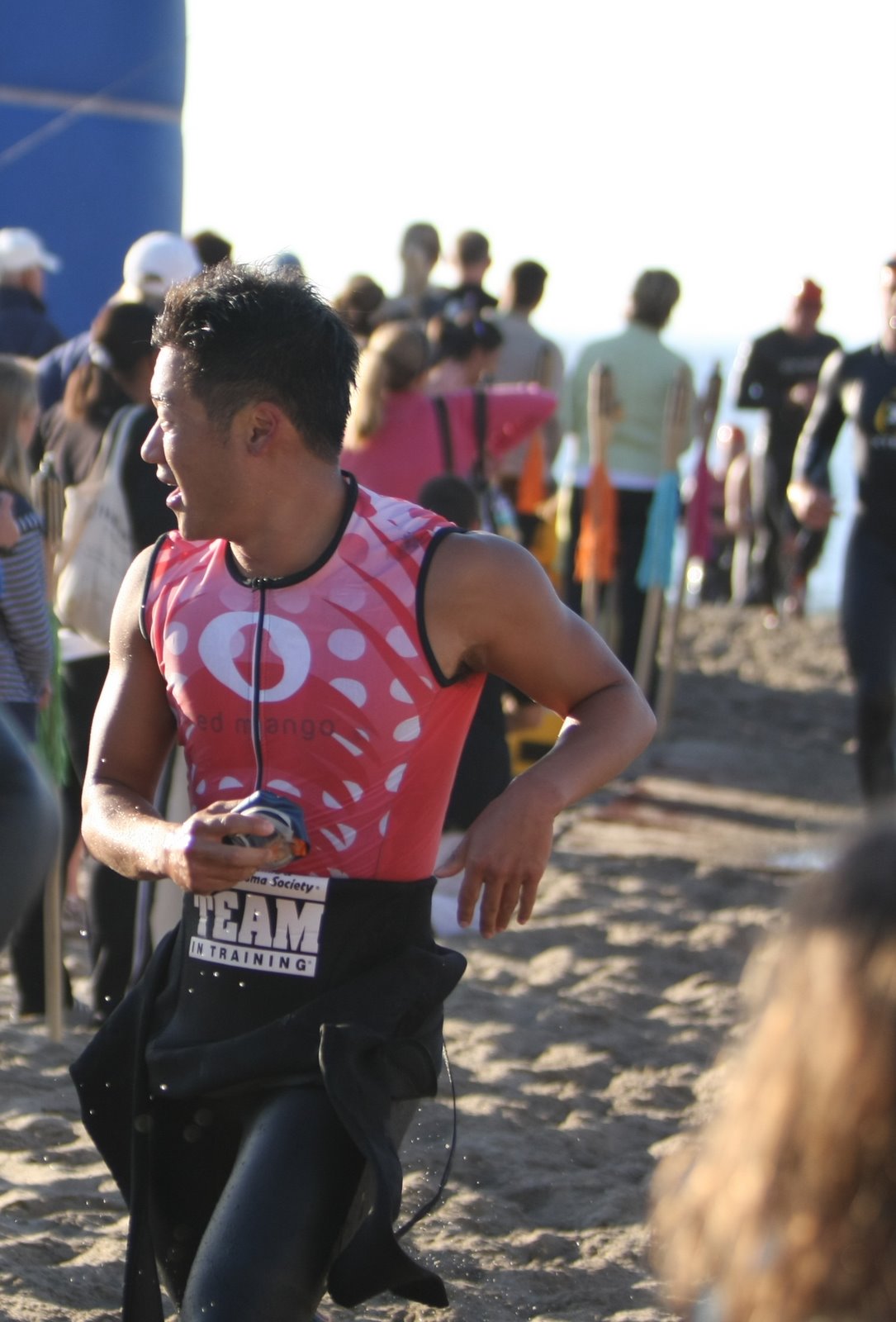 It was a great feeling to come out of the water, run up the beach to a big crowd of people cheering. My Team in Training buddies (thanks Katie and Colleen!) had my shoes waiting at the beach so I could wear them for the short run to the transition area. Willow caught up to me in transition, despite starting her swim 10 minutes after me! She even managed to spray some sunscreen on me amidst her crazy transition routine, further testament to her dedication as a mentor!
The bike
There's usually a lot of wind on this bike course, which heads up and down Highway 1 along the ocean. On race day, it was relatively calm, and the ride was smooth and uneventful. 56 miles is just a long time to sit in the saddle, and you find yourself talking to yourself sometimes. Wait, did I just say that out loud?

Transition to the run
Coming back into the transition area on the bike was definitely one of the highlights – hearing all the cowbells ringing (you can always use more) and people cheering as I passed by was a rush! My mini-cheering section of Jenni, Yeong-sae, and Christine (and Rockie) were all there to cheer me on and even brought signs printed with motivational messages.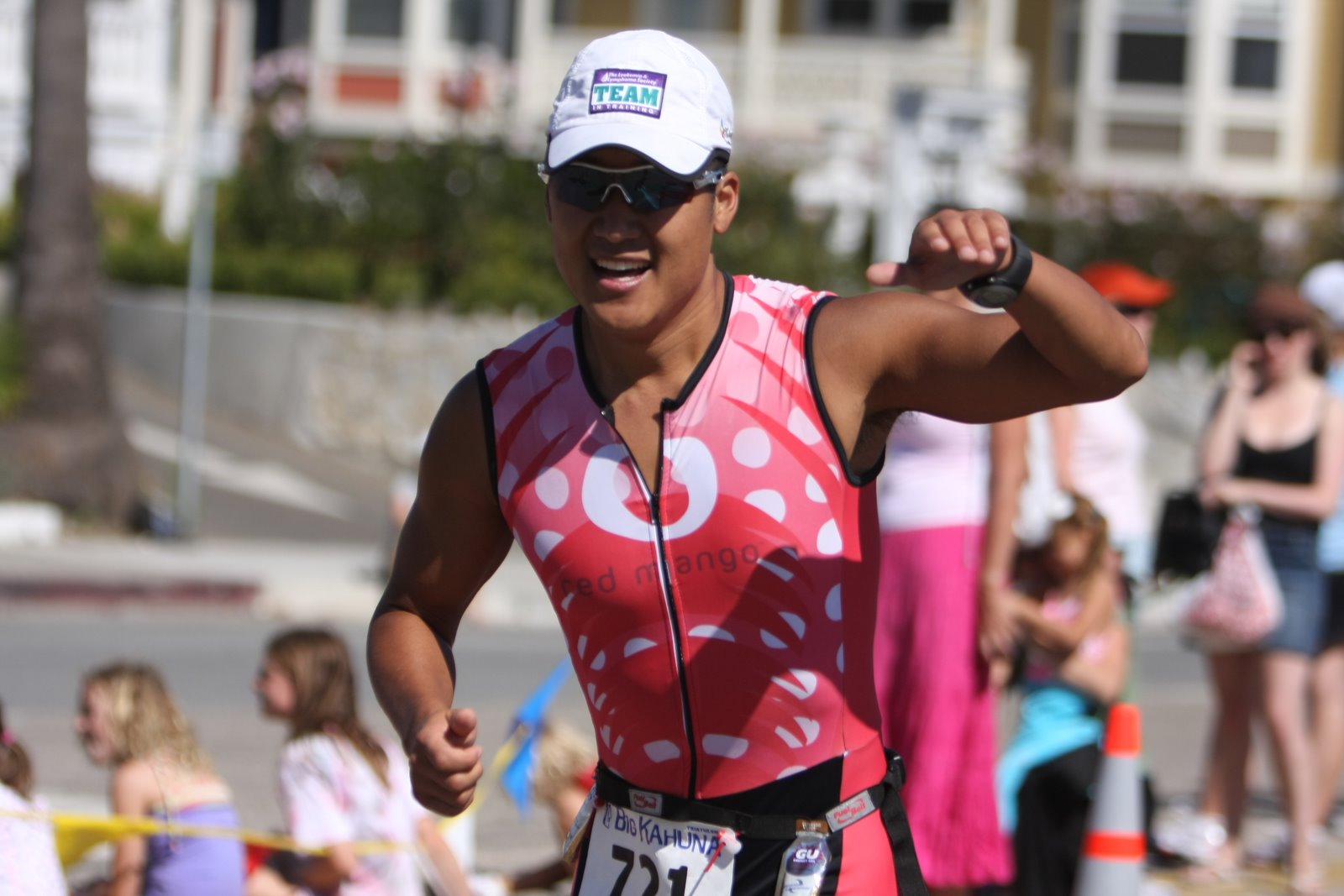 The run
Running sucks for me. So the thought of doing a half marathon after all that other stuff was pretty horrific. I ran with a fellow Team in Training teammate Thomas for most of the run – it was really great to run together with a teammate. The only thing was that Thomas was cramping up the whole time but kept pushing through it – I just wished there was some way I could help him. I could only imagine the pain of running all those miles with a bad cramp.
The worst part about the run was the halfway turnaround point that never came. It was supposed to come at 6.55 miles, but I swear it felt like 7.5 miles! Everytime we came around a corner of the trail expecting to see the turnaround, we'd see people continuing to run off into the distance, no turnaround in sight.
It was a truly joyful experience to finally be able to see a big roller coaster on the Boardwalk on the way back. Almost there! At this point it was all about just trying to keep one foot going past the other.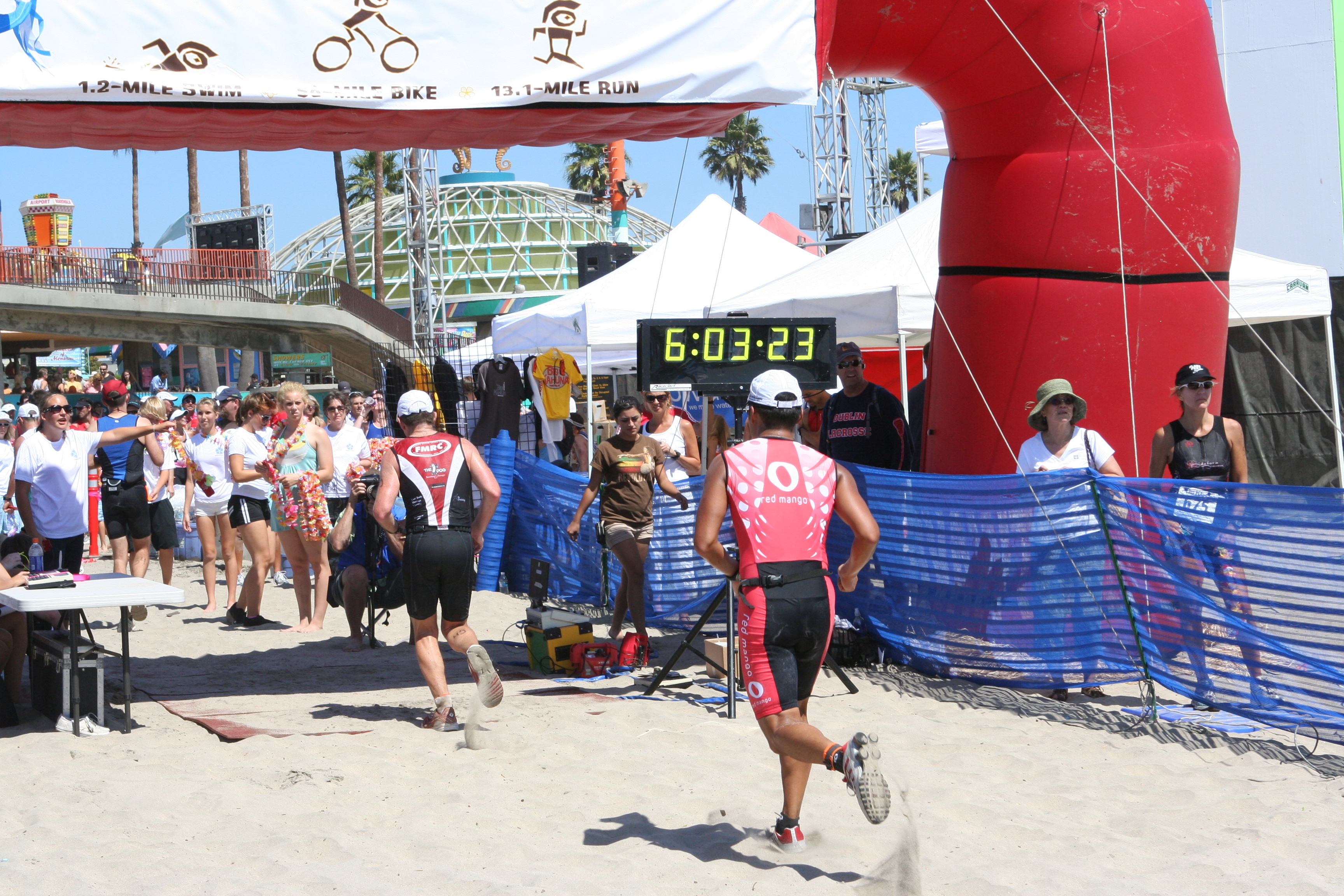 The finish
The Big Kahuna course designers had the cruel sense of humour to end this long-ass race by having us run through the sand. Holy heavy feet. But it was so awesome to get to the finish to meet your cheering teammates, family members, and finally being able to plop youself down on the sand.

The post-party
Oops, I passed out before dinner.
In retrospect
I still think it's somewhat crazy to subject one's body to the type of abuse that comes with triathloning, but after being through it, I can really appreciate why people do it. The combination of exhilaration, hard work, comraderie, getting your ass in great shape, pain, friendships, and achievement make for a truly memorable and meaningful experience. In terms of when I'll do the next one, ask me in a few days after I can walk again 🙂