Here, now its official (and harder for me to back out!): I'm signed up and training for a full Ironman race this year. Its an odd time I know to be undertaking such an adventure, given that I'm a new dad and starting a new business venture, but they always say that what doesn't kill you can almost kill you, even if you survive. Really though its my wife Liz who is making this possible – she has been extremely supportive and I owe to her my ability to prepare for this race (she has been doing the endurance event called taking care of a newborn baby for months now!). The race I'm doing is Vineman on July 30, 2011 up in Sonoma County. I did the Full Aquabike version of this race to see how the distances felt (which is 2.4 miles of swimming followed by 112 miles of biking), I felt pretty exhausted, but survived – so now all we gotta do is tack on a marathon at the end and we're done.
OK – I also gotta show off my new ride – I finally ditched my K-Mart special bike to get a real triathlon machine, check it out: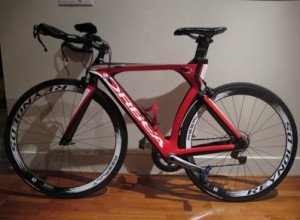 Pretty sweet huh? Look fast, be fast (I heard this). Well, it gives me extra motivation now to actually ride fast and not get passed by masses from subsequent waves (but we know this will happen anyways). OK enough on this – I know a lot of people will be racing this event this year, so I look forward to seeing many of you there.  Looking forward to a great summer of training and an awesome race day!